Tubes : 12AX7,ECC83,7025, 6CA7/EL34, 6L6GC, 5881 12AT7 and more !
Since the recent war in Ukraine started all tubes made in Russia are marked with a very high tariff thus causing inflated prices. Although still available with longer lead times all Russian tubes have increased dramatically in price. We in turn are offering them at modest realistic prices. This crisis has also affected JJ tubes because they source raw material from Russia. We ask for your understanding and patience we will be offering PSVANE tubes which are a high quality tube made in China as a substitute during this interim. At the same time depending on availability we will be offering the Russian made tubes at adjusted prices.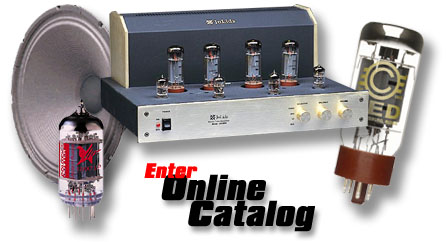 We also sell factory authorized brand new Jolida Fusion and Black Ice Audio US Models with full warranty!!!

Questions? email us at info@newtube.com or call us at 516 295 0390
TUBE PRICES: All tube prices are subject to change without notice. Because of the war in Ukraine the U.S. has placed a large tariff on any incoming goods such as tubes from Russia. As a result the prices have skyrocketed and availabilty is limited. If things get worse they may prevent any importing of tubes altogether like they did back in the 70's . This has had an impact on JJ tubes because they get some of their materials from Eastern bloc countries and prices there have gone up. China has also raised their prices. I can only suggest that if you need tubes that you should buy them now before things get tighter and more expensive. We have no control on price increases. Prices are volatile and can change from week to week.
We are your source for Guitar Amplifier tubes . Despite the tariffs we have tubes in stock. Please check out our selection
Electro Harmonix, JJ, Svetlana, TNT, Tungsol, Mullard, Genalex and more !!

NOTE: We have been selling tubes for 30 years to consumers and OEM's alike.Please think of us when you need replacement tubes

ANY questions about placing an order or a product ? Please email us at info@newtube.com or Call us anytime,evenings,weekends we will be glad to answer all your questions about tubes, Jolida Audio and all other products we sell. If you get voice mail leave a message!!!
Electroplex Guitar amps: High Quality Custom Amps. Boutique High Quality Amps made in Fullerton, California, excellent amp for blues players !! Electroplex amps are high quality all tube guitar amplifiers. Check out the Premier Guitar Interview /Demo at

http://www.premierguitar.com/Video/20100618/1033/NY_Amp_Show_10_Electrop...


Minimum Export & Domestic Orders:
Min $250 export orders including Canada*, Domestic minimum order is $50.
PRICES: All prices on all products are subject to change without prior notice.We will try to update the prices on the web as promptly as we find out from our suppliers but can not be responsible for price increases from manufacturers who supply us.